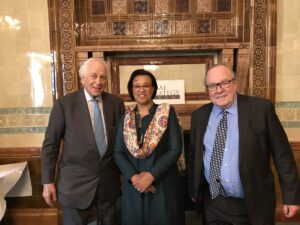 We were deeply saddened to learn of the death of our long-serving Advisory Board member, Sir Evelyn de Rothschild.  His family today released the following statement: 'It is with great sorrow that Lady de Rothschild announces the death of her beloved husband, Sir Evelyn de Rothschild, after a short illness. Sir Evelyn passed away peacefully yesterday evening at his home in London with his loved ones by his side. The family appreciates thoughts and prayers at this very sad time.'
Knighted by the Queen for services to banking and finance, a former chairman of the Economist and renowned for his philanthropy, we were delighted when Sir Evelyn agreed to become an Advisory Board member of GSF in 2013.  A regular attender at our events, he was always on hand for guidance and inspired ideas for our future programme.  He was a incredible friend to GSF and we will feel his loss greatly.
Sir Evelyn's obituary in The Financial Times can be read here.
Sir Evelyn de Rothschild (1931-2022)
Advisory Board member (2013-2022)
Sir Evelyn de Rothschild was Chairman of E.L. Rothschild, a private investment company, and Chairman of the ERANDA Foundation, a family foundation he founded in 1967 to support charities working in the fields of medical research, health and welfare, education and the arts. In addition, he served as a Governor Emeritus of the London School of Economics and Political Science, Fellow of Imperial College London and was an Honorary Life President of Norwood and Ravenswood Children's Charity.  From 1976 until 2003, Sir Evelyn was Chairman and CEO of NM Rothschild and Sons Ltd, the international investment bank.  From 1972 until 1989, Sir Evelyn also served as Chairman of the Economist Group, from 1977 to 1994 Chairman of United Racecourses Ltd and previously he served on the Board of Directors of De Beers and IBM UK as well as serving as Deputy Chairman of Milton Keynes Development Corporation, Chairman of St Mary's Hospital Medical School, Member of the Council of the Shakespeare Globe Trust  and President of The Evelina Children's Hospital Appeal. He was knighted by Queen Elizabeth 11 in 1989 for services to banking and finance.  He leaves his wife, Lynn Forester and his three children and two stepchildren.