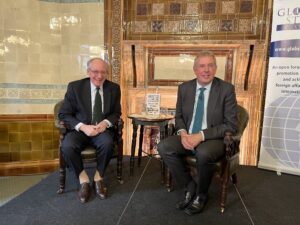 On Wednesday 7th December, for our final event of 2022 and our Christmas drinks, we were delighted to welcome Lord Darroch of Kew to GSF as our guest of honour. He brought his enormous expertise, amassed during a long and distinguished diplomatic career, to reflect on what has been a turbulent year, both at home and abroad. In particular, he focused on what the results of the 2022 midterms might tell us about the future direction of America's politics, both foreign and domestic.
With democratic values at the heart of those elections, the first major test of public opinion since the US Capitol riot on 6th January 2021, the much anticipated 'red wave' failed to materialise for the Republicans. The results have raised questions – despite the launch of his 2024 White House bid – about the future for Donald Trump and his firebrand school of politics. Will the Republican Party unite or divide around him? Are we likely to see another 'America First' presidency on the ballot in 2024? Will Joe Biden be the Democratic presidential candidate? And what will be at stake in those elections? Global leadership is needed now, more than ever, on a host of intractable issues, from the Russia/Ukraine war, to the climate emergency, the energy and inflation crises and addressing global food and water insecurity.  Do the midterm results make it more likely that America will be willing to provide such leadership in the future?
And what about the state of transatlantic relations – in October, President Biden surprised many with his overt criticism of Liz Truss's economic policies during her short-lived tenure. White House concerns remain too over the UK's approach to the Northern Ireland Protocol. With prospects for a US-UK trade deal acknowledged by both governments to be remote, how should Britain's new Prime Minister, Rishi Sunak, seek to shore up the UK's diplomatic capital with the US as he navigates Britain's post-Brexit path?
***********************
Lord Darroch discussed all these issues and more, in conversation with former Foreign Secretary and GSF Advisory Board member, the Rt Hon Sir Malcolm Rifkind, in an event entitled 'After The 2022 Midterms: The Outlook For The US, Transatlantic Relations & America's International Role'.  
SPEAKER BIOGRAPHIES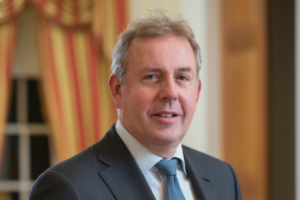 THE LORD DARROCH OF KEW KCMG (Kim) is a retired UK civil servant and life peer in the House of Lords. His diplomatic career spanned over 40 years, primarily focusing on national security issues and European policy.  Most recently, Lord Darroch served as the British Ambassador to the United States (2016-2019). Prior to Washington, he was National Security Adviser to Prime Minister David Cameron (2012-2015), and in that role, oversaw issues such as the rise of Daesh in Iraq and Syria, Russian aggression in Ukraine, and the collapse of government authority in Libya. In addition, he worked in senior roles on UK-EU policy and multilateral negotiations, including spells as Permanent Representative to the European Union (2007-2011) and as EU Adviser to Prime Minister Tony Blair (2004-2007). Earlier in his career, Lord Darroch worked in a wide range of positions and policy specialties, including Private Secretary to Minister of State for the Middle East, Head of the Adriatic Department during the Dayton Accord negotiations, and as Head of the News Department at the Foreign and Commonwealth Office. In addition to his two ambassadorial postings, Lord Darroch completed tours in Brussels, Rome, and Tokyo. In 1997, he was appointed a Companion of the Order of St. Michael and St. George (CMG), and as a Knight Commander (KCMG) in 2008. In 2019, he was made a life peer in the House of Lords. He attended Durham University, where he read Zoology, and joined the Diplomatic Service in 1977. He married his wife, Vanessa, in 1978. They have two adult children, Simon and Georgina.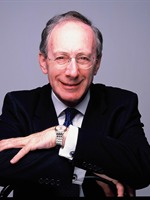 THE RT HON SIR MALCOLM RIFKIND KC (Chair) was elected as MP for Pentlands in 1974, which he represented until 1997. He became a member of the Cabinet in 1986 as Secretary of State for Scotland. In 1990 he became Secretary of State for Transport and in 1992, Secretary of State for Defence. From 1995-97 he was Foreign Secretary. In 1997 he was knighted in recognition of his public service. Sir Malcolm was re-elected as a MP in May 2005 for Kensington and Chelsea and he was elected as MP for Kensington in May 2010 until his retirement at the 2015 general election. He was UK representative on the Commonwealth Eminent Persons Group (2010-2011); and Chairman of the Intelligence and Security Committee of Parliament (2010-2015). He was appointed in 2015 by the OSCE as member of their Eminent Persons Panel examining Russia-West relations and the crisis in Ukraine. He is a member of the Board of the Nuclear Threat Initiative, in Washington DC, chaired by Senator Sam Nunn, and he is a Member of the Aspen Ministerial Forum, founded by Madeleine Albright. He was appointed by the Government as the British Co-Chairman of the Belvedere British-Polish Forum in 2017. He is currently a Visiting Professor at the Department of War Studies at King's College, London and a Distinguished Fellow of the RUSI.