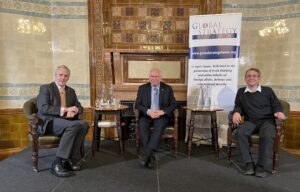 For our November event, we were delighted to welcome to GSF both Professor Sir Lawrence Freedman and his son, the writer and policy adviser, Sam Freedman, to discuss the themes contained in Sir Lawrence's new book, Command: The Politics of Military Operations From Korea To Ukraine, as well as Russia-Ukraine, international relations, global security and foreign policy more broadly.
From the Korean War to Putin's 'special military operation' in Ukraine, Command examines the nature and practice of war since 1945 through an analysis of the intersection between military expertise and political power – and demonstrates how the story of modern warfare is very often defined by the relationships between military leaders and the politicians they serve.
Earlier this year, Sam and Lawrence set up a joint Substack, Command Is Freed, covering politics, policy analysis, and foreign affairs. A discussion space in which they share ideas and commentary on an extensive range of topics, it has rapidly become one of the most widely read and successful publications on the site. As the distinguished military historian of our age, Sir Lawrence brings his unparalleled expertise to bear on international relations, and the background history and strategic judgements lying behind global news stories. Few could critique the trajectory of the Russia-Ukraine war with his authority and knowledge, and his regular posts are essential reading for anyone who wants a clear and insightful understanding of the conflict and its implications. Sam Freedman's astute and trenchant coverage of domestic politics – from education policy to election analysis (UK and further afield) to the rollercoaster of Westminster politics – has unsurprisingly attracted an equally large and dedicated readership.
***********************
Event Summary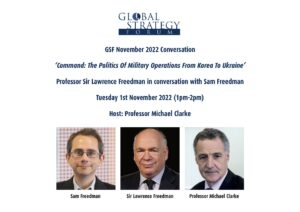 On Tuesday 1st November, Professor Sir Lawrence Freedman, Emeritus Professor of War Studies, King's College London & co-author of Comment Is Freed; and Sam Freedman, Senior Fellow at the Institute for Government & co-author of Comment Is Freed, spoke in a GSF conversation entitled 'Command: The Politics Of Military Operations From Korea To Ukraine' which was hosted by Professor Michael Clarke, Director-General of RUSI (2007-2015), co-author of Britain's Persuaders (2021), and GSF Advisory Board member.

To watch the event on GSF's YouTube channel, please click here:  
SPEAKER BIOGRAPHIES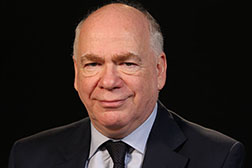 SIR LAWRENCE FREEDMAN is Emeritus Professor of War Studies at King's College London. He was Professor of War Studies at King's College London from 1982 to 2014, and was Vice-Principal from 2003 to 2013. Elected a Fellow of the British Academy in 1995, he was appointed Official Historian of the Falklands Campaign in 1997. In June 2009 he was appointed to serve as a member of the official inquiry into Britain and the 2003 Iraq War. Professor Freedman has written extensively on nuclear strategy and the cold war, as well as commentating regularly on contemporary security issues. Among his books are Strategy: A History (2013), The Future Of War: A History (2017) and Ukraine And The Art of Strategy (2019). His new book is Command: The Politics of Military Operations from Korea to Ukraine. He is a co-author with his son Sam of the substack, 'Comment is Freed'.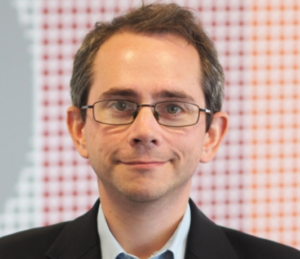 SAM FREEDMAN is a senior fellow at the Institute for Government and writes regularly on politics and policy for Prospect, New Statesman, TES, the FT, Guardian and Sunday Times. Sam and his father, Lawrence Freedman, co-author their popular substack newsletter Comment is Freed'. Previously he was CEO of Education Partnerships Group, which supports governments in sub-Saharan Africa to develop education policy and was an executive director at Teach First. He worked at the Department for Education as a senior policy adviser to Michael Gove from 2010-2013. Sam is also a senior adviser to the education charity Ark.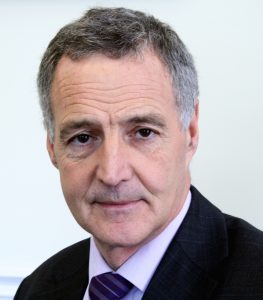 PROFESSOR MICHAEL CLARKE (HOST) was Director General of the Royal United Services Institute from 2007-2015, where he remains a Distinguished Fellow. He is an adviser to two Parliamentary Committees and Associate Director of the Strategy and Security Institute at the University of Exeter. He is an Advisory Board member of Global Strategy Forum. His most recent book (co-authored with Helen Ramscar),Britain's Persuaders: Soft Power In A Hard World (I.B. Tauris) was published in November 2021.