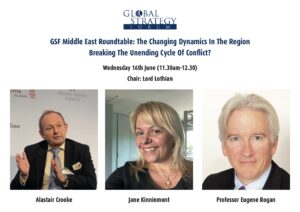 Our new webcast, a GSF Middle East roundtable, 'The Changing Dynamics In The Region: Breaking The Unending Cycle Of Conflict?', is now available to watch on our YouTube channel (a YouTube account is not required – if prompted to sign in, simply click 'no thanks').
The webcast features speakers Alastair Crooke (Director of Conflicts Forum), Jane Kinninmont (Director of Impact at the European Leadership Network) & Professor Eugene Rogan (Professor of Modern Middle Eastern History, University of Oxford and Fellow of St. Antony's College, participating in an expert roundtable discussion, chaired by Lord Lothian.
The webcast can be viewed here.