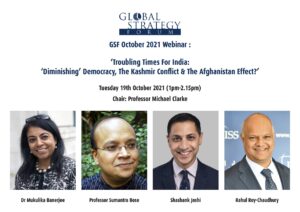 Various international indices have this year described India as a 'partially free democracy', an 'electoral autocracy' and a 'flawed democracy', fuelling growing fears that Prime Minister Modi and his Hindu nationalist BJP government are putting the country's reputation as the world's largest democracy at risk. The victory of the Taliban in Afghanistan, where India has been a key development partner, represents another setback for the government, with many commentators predicting a major loss of influence in the region.
The new strategic realities certainly look bleak: the prospect of expanded Chinese influence could diminish India's influence yet further, while there are real concerns that if Afghanistan once again becomes a haven for terrorists, it will impact on Indian interests. This includes the long-running India-Pakistan dispute over Kashmir, where the situation has only worsened since 2019, when the Modi government stripped the region of autonomy, and imposed a raft of repressive measures.
What are the future prospects for Indian democracy and how will this affect the region? What effect will the Taliban's return to power have, on India's regional role, on India-Pakistan relations and on the Kashmir conflict – will Islamists inspired by the Taliban take this opportunity to stir up violence? What of the human tragedy of those caught up in the conflict? And against the backdrop of the ascendancy of Hindu nationalism in India and the increasingly complex geopolitical environment, can a compromise settlement for Kashmir still be found? What are the implications for India's role on the world stage and for its international relations – with the UK, with China, and with the US – a Times of India editorial recently questioned the wisdom of strategic alignment with the latter. Will the country's strategic calculus now change? In short, what is the outlook for India, both at home and abroad?
***********************
To discuss these issues, we were delighted to welcome an expert panel to GSF on Tuesday 19th October:
Dr Mukulika Banerjee, Associate Professor, Department of Anthropology, LSE; Author of 'Cultivating Democracy: Politics And Citizenship In Agrarian India' (OUP, October 2021)
Professor Sumantra Bose, Professor of International and Comparative Politics, LSE; Author of 'Kashmir At The Crossroads: Inside A 21st Century Conflict' (YUP, November 2021). To receive a 30% discount, enter the code 'YKASH' at checkout here.
Shashank Joshi, Defence Editor, The Economist;
Rahul Roy-Chaudhury, Senior Fellow for South Asia, The International Institute for Strategic Studies.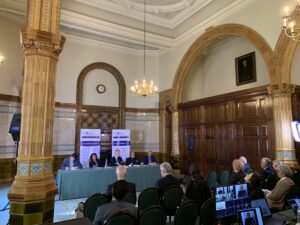 They spoke in a GSF discussion entitled 'Troubling Times For India: 'Diminishing' Democracy, The Kashmir Conflict & The Afghanistan Effect?' which was chaired by Professor Michael Clarke, GSF Advisory Board member, and Director-General of RUSI (2007-2015).
To watch the discussion again, click here.
To read the text of Rahul Roy-Chaudhury's remarks, click here.