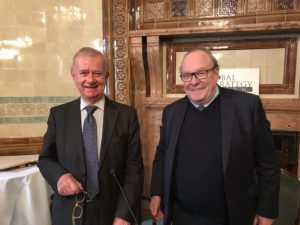 It was with very great sadness that we learned of the death of Sir John Chilcot.  Sir John had been an Advisory Board member of Global Strategy Forum since 2017.  As the Chair of the Iraq Inquiry, after a long and very distinguished career in the civil service and the Northern Ireland Office in particular, his reputation more than preceded him, and so we were delighted when he agreed to join our Advisory Board.
He gave a keynote lecture to open our Global Britain series in October 2018, ''Global Britain": The Implications For Foreign Policy?' and he was regular attender at GSF.  He unfailingly inspired with his ideas and suggestions to improve and expand our programme  and we benefitted immeasurably from his wise counsel and his invariably astute insights.
He will be greatly missed.
Sir John Chilcot's obituary in The Times can be read here.
The Rt Hon Sir John Chilcot GCB (1939-2021)
GSF Advisory Board member
The Rt Hon Sir John Chilcot GCB was educated at Brighton College (Lyon scholar), and Pembroke College, Cambridge (open scholar and research and teaching scholar, 1957-63). He joined the Home Office in 1963, and worked for the Head of the Civil Service, William Armstrong, and several Home Secretaries (Roy Jenkins, Merlyn Rees and Willie Whitelaw) as private secretary. Postings to the Cabinet Office, and as head of policing and national security policy at the Home Office followed. He then served as Permanent Under-Secretary of State at the Northern Ireland Office from 1990 to the end of 1997. On retiring from Whitehall, he was appointed by the Prime Minister as Staff Counsellor to the Security and Intelligence Agencies, and the National Criminal Intelligence Service.  Sir John led or chaired a number of government Inquiries and reviews including Royal and VIP security, the IRA penetration of the RUC's Special Branch HQ, the use of intercept evidence in criminal trials, the Butler Review of the intelligence on Iraq, and finally he chaired the Iraq War Inquiry from 2009 to 2016. Aside from government-related service, he was at various times a non-executive director of RTZ's industrial group, a seconded director at Schroders, Chair of the construction industry's pensions and benefit schemes, and Chair (now President) of the Police Foundation think tank.