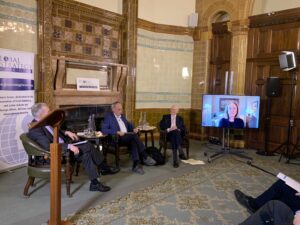 On Tuesday 1st March, we welcomed an expert panel to GSF. Sir Tony Brenton, British Ambassador to Russia (2004-2008), Lord Campbell of Pittenweem, Leader, Liberal Democrats (2006-2007); Leader of the UK delegation to the NATO Parliamentary Assembly (2010-2015); and Susan Eisenhower, CEO & Chairman of The Eisenhower Group, Inc; Chairman Emeritus of The Eisenhower Institute.
They debated 'The Russia-Ukraine Crisis: What's The Endgame?' in a highly topical event chaired by Professor Michael Clarke, Director-General of RUSI (2007-2015) and GSF Advisory Board member.
To watch the event again, please click here.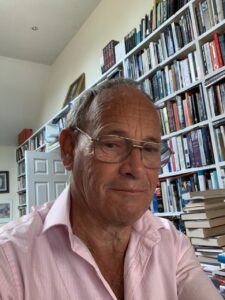 SIR TONY BRENTON KCMG, formerly British Ambassador to Russia and Governing Body Fellow, Wolfson College, worked for 30 years for the Foreign Office. He first learnt Arabic and spent three years in Cairo working on the Middle East Dispute. From 1980-1989 he handled European matters in London and in Brussels, working on energy issues and the birth of European environment policy. He ran UN issues in the Foreign Office and took charge of preparation for the 1992 'Earth Summit', which achieved the first global agreement on Climate Change. After a year at Harvard (writing a book about international environment policy – The Greening Of Machiavelli), he learnt Russian and spent 1994-1998 in Moscow dealing with Russian economic reform. After a further period in London on UN matters (including the establishment of the International Criminal Court) he was posted in 2001 to Washington. In 2004 he was posted to Moscow as Ambassador where he managed Britain's relations with Russia during a turbulent period. He was awarded a KCMG in 2007. He became a Fellow of Wolfson College in 2009.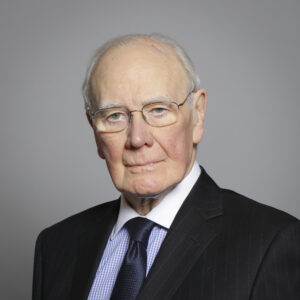 THE RT HON. THE LORD CAMPBELL OF PITTENWEEM CH CBE PC QC FRSE is one of the most respected and successful politicians of his generation. He was educated at the University of Glasgow where he graduated MA and LLB and was President of the Union, and Stanford University, California, where he undertook post-graduate studies in international law. He competed in the 1964 Tokyo Olympics and was captain of the UK Athletics Team in 1965 and 1966. He held the British 100m record from 1967 to 1974. He was called to the Scottish Bar as an advocate in 1968 and appointed Queens Counsel in 1982. He was elected MP for North East Fife in 1987. In Parliament, his particular interests were foreign affairs and defence and he was his Party's principal spokesman on both. He has been a member of the Foreign Affairs, Defence, Members Interests, Trade and Industry, and Intelligence Committees. He was elected Deputy Leader of the Liberal Democrats in 2003 and was the Leader of the Party 2006 to 2007. He led the UK delegation to the NATO Parliamentary Assembly between 2010 and 2015 and was later elected a Vice President of the Assembly. He was awarded the CBE in 1987, became a Privy Councillor in 1999, knighted in 2004 and appointed a Companion of Honour in 2013. He holds honorary degrees from three Scottish Universities, including St Andrews where he became Chancellor in 2006. He stood down from the House of Commons in 2015 and the same year was appointed to the House of Lords.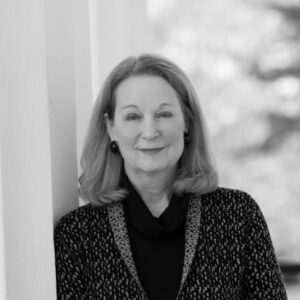 SUSAN EISENHOWER is the CEO and Chairman of The Eisenhower Group, Inc. a Washington DC based consulting company founded in 1985. For thirty years the company has provided strategic counsel on business development, public affairs and communications projects. In addition, Susan Eisenhower has also had a distinguished career as a policy analyst. She is Chairman Emeritus of The Eisenhower Institute, where she served as president twice. She has also been a Fellow at Harvard's Institute of Politics and a Distinguished Fellow at the Nixon Center, now the Center for National Interest. She has served as a member of three blue ribbon commissions for the Department of Energy for three different secretaries: The Baker-Cutler Commission on US Funded Non-Proliferation Programs in Russia; The Sununu-Meserve Commission on Nuclear Energy; and the Blue Ribbon Commission on America's Nuclear Future. She was also appointed to the National Academy of Sciences Standing Committee on International Security and Arms Control, where she served eight years. After as many years on the NASA Advisory Council, she served as a commissioner on the International Space Station Management and Cost Evaluation Task Force. She is currently a member of MIT's Energy Initiative Advisory Board and co-chairman of NEAC, the Secretary of Energy's Nuclear Energy Advisory Board. In June 2016, she received the Legion d'honneur from the French Government, in recognition of her years of policy work, especially in US-Russian Relations. Eisenhower has authored hundreds of op-eds for newspapers such as the Washington Post and the LA Times and appeared frequently on national television and radio. She has co-authored or co-edited four books on international security issues and her most recent book, How Ike Led, was published in August 2020.