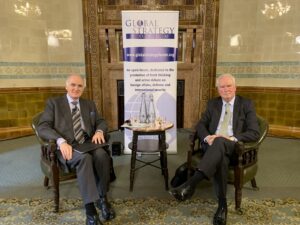 We were delighted to welcome Sir Mark Lyall Grant GCMG,National Security Adviser (2015-2017) and UK Ambassador to the UN (2009-2015), to GSF on Tuesday 1st February to speak on the subject of 'Britain In The 2020s: National Security In A Changed World'.
In a wide-ranging conversation with Lord Stirrup KG GCB AFC and members of the audience, he discussed the four main 'baskets of threats' faced by the UK: 1) State-based threats, most obviously, Russia and China; 2) Terrorism – primarily Islamist, but also a rising right-wing terrorist threat; 3) Cyber threats, both from hostile states and from criminal gangs and scammers; and 4) Global threats – climate change, health pandemics, illegal migration, serious organised crime, human trafficking, all underpinned by the erosion of the rules-based international order.
To watch the webinar in full, please click here.
Sir Mark Lyall Grant qualified as a barrister before joining the diplomatic service in 1980.  Over the next 35 years, he served in Pakistan (twice), France, South Africa and the US as well as holding numerous positions in the FCO and Cabinet Office in London.  Becoming one of the UK's most senior diplomats, he was appointed High Commissioner to Pakistan (2003-2006), Political Director in the FCO (2007-2009) and Ambassador to the UN (2009-2015).  In that role, he chaired the UN Security Council on 4 separate occasions. In his final Government service job, Mark was the National Security Adviser to David Cameron and then Theresa May until April 2017.  In this role, he advised the Prime Minister on Security, Defence and Foreign policy issues, oversaw the UK's three intelligence agencies and acted as chair of the National Security Council. Mark is currently a visiting Professor at King's College, London, a Bencher at Middle Temple and a fellow at Eton College. He has a number of consultancy roles, focussed on national and international security, and on geopolitics; and is on the advisory board at Chatham House. He was knighted in 2007 and is the King of Arms at the Order of St Michael and St George.