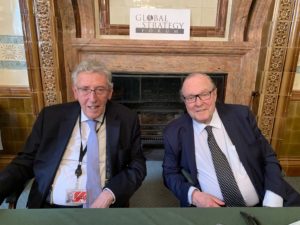 To open our 2019-2020 events season on Tuesday 8th October, we had great pleasure in hosting GSF Advisory Board member, the Rt Hon the Lord Howell of Guildford. 
He gave a lunchtime lecture entitled 'Look Where We're Going: Escaping The Prism Of Past Politics', which discussed the themes contained in his new book of the same name, in an event which was chaired by Lord Lothian PC QC DL.
To listen again to Lord Howell's lecture, please click here.
To read more about Lord Howell's book and to buy a copy, click here.