GSF Advisory Board members and former Foreign Secretaries and Shadow Foreign Secretary, Sir Malcolm Rifkind MP, Jack Straw MP and Sir Menzies Campbell MP spoke our second June debate, chaired by Lord Lothian, on Tuesday 26th June 2012.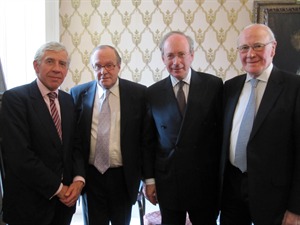 Following the highly successful GSF debate last June, held to review the progress made towards the goal of a 'clear, focused and effective' foreign policy adopted by the Foreign Secretary in a speech shortly after entering office, we were delighted to welcome back GSF Advisory Board members Sir Menzies Campbell MP, Sir Malcolm Rifkind MP and Jack Straw MP, to give their assessment of the coalition's foreign policy at the end of its second year.
Summary to follow.
To listen to the debate, click here.