Professor Malcolm Chalmers, Research Director and Director (UK Defence Policy) at RUSI, the Rt Hon Dr Liam Fox MP, Secretary of State for Defence 2010-2011 and Peter Jenkins CMG, former UK Ambassador to the IAEA, were the panellists in this debate, chaired by the Rt Hon Jack Straw MP, which took place on Tuesday 3rd July 2012.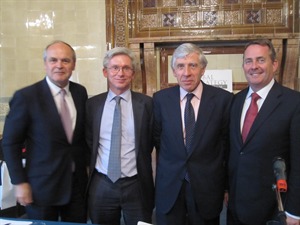 From l to r: Peter Jenkins, Professor Malcolm Chalmers, Jack Straw MP and Dr Liam Fox MP
To read Peter Jenkins' remarks, click here.
To listen to the debate, click here.