On Wednesday 14th June, we were delighted to welcome a panel of distinguished experts to GSF to discuss the topic of 'Brexit: You Looking At Me, Looking At You – The View From Europe' in the second part of a two-day event co-hosted with the Political Economy of Financial Markets (PEFM) Programme at St Antony's College, University of Oxford.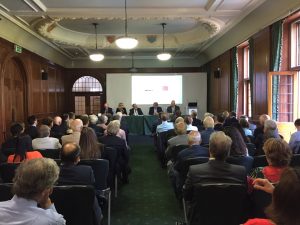 The London event took place in the Church House Conference Centre (Bishop Partridge Hall) and was chaired by Lord Lothian, GSF's Chairman.  Professor David Vines, Acting Director, Political Economy of Financial Markets Programme (PEFM), Professor of Economics and Fellow of Balliol College, University of Oxford, gave a brief report on the Oxford Conference.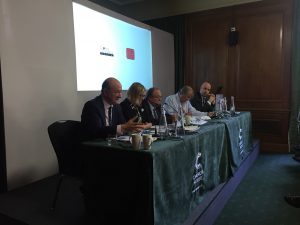 Our speakers included Professor Marcel Fratzscher, President of DIW Berlin; Professor of Macroeconomics and Finance, Humboldt-University Berlin; Professor Brigid Laffan, Director and Professor, Robert Schuman Centre for Advanced Studies, European University Institute (EUI), Florence; Mr. Jacek Rostowski, Former Minister of Finance (2007-2013) and Deputy Prime Minister of the Republic of Poland.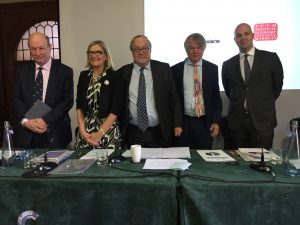 To listen to the panel, please click here here.  To download, the conference programme, click here and the list of speaker biographies can be found here. 
The Oxford Conference, 'You Looking At Me, Looking At You: BREXIT Britain And The World', took place at St Antony's College on 16th May 2017 and focused specifically on three perspectives on Brexit: how the UK expects its relationship with Europe to change; how the UK hopes to engage with the rest of the (non-European) world; and how the world might respond to this (unforeseen) European divorce. Further details of the Oxford Conference, including the programme, can be found here.
The morning conference was followed by a luncheon in the House of Lords hosted by Lord Lothian, at which the Rt Hon Lord Owen CH FRCP presented a paper on his interpretation of the EEA agreement. A short and a long version can be downloaded here (short version) and here (long version), and the paper is also available on Lord Owen's website: http://www.lorddavidowen.co.uk.  Following the lunch, the Rt Hon Lord Howell of Guildford wrote to The Times and his letter can be read here.