There was standing room only at the National Liberal Club on 24th January when Dr. Arshin Adib-Moghaddam, Jonathan Fryer, Sir Jeremy Greenstock and Sir Malcolm Rifkind QC MP debated the question, 'Iran and the West: Is War Inevitable?'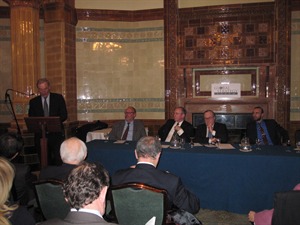 Sir Malcolm Rifkind MP opened the debate. He believed that the most dangerous consequence of Iran's acquisition of a nuclear weapon would be proliferation in the region, with Saudi Arabia, Egypt and Turkey following suit and that by contrast, the downside risks of military action to prevent Iran from acquiring nuclear weapons capacity would be relatively brief.
However, Sir Jeremy Greenstock, the UK Permanent Representative at the United
Nations in New York (1998-2003) said that military action would not necessarily destroy Iran's nuclear weapons potential and that sanctions should only be on the table as part of a wider conversation about Gulf security. Dr. Arshin Adib-Moghaddam, Reader in Comparative Politics and International Relations at SOAS feared that rhetoric towards Iran could ratchet up this year, as the prospect of war became a 'masculinity test' in the US election campaign and that policy towards Iran needed to distinguish between the Iranian leadership and the country itself with its rich history.
The writer, lecturer and broadcaster on international affairs, Jonathan Fryer (whose blog of the event can be read here:www.jonathanfryer.wordpress.com ) said that he did not believe that war with Iran was either inevitable or desirable, and expressed concern about the increase of pressure on Tehran by several Western governments, including Britain. He proposed a Middle East conference to look at the whole region and not just Iran in isolation, with the EU and US facilitating but not attempting to dictate an outcome.  There was agreement amongst several of the panellists that there needed to be a broader and deeper conversation with Iran which went beyond negotiations on the nuclear issue.
Following the debate, the Turkish Embassy placed on record Turkey's position in relation to nuclear proliferation in the Middle East as follows:
Turkey is committed to a world without nuclear weapons.  We sincerely wish to see that all countries will come to share the goals of non-proliferation and collectively work towards a safer and more stable world. Turkey does not want any state in its region, including Iran, to acquire nuclear weapons. Turkey believes that a diplomatic solution to Iran's nuclear programme is the only viable option and we have been exerting substantive efforts in this regard. The solution to the issue should recognize the right of every country respectful of NPT obligations to make peaceful uses of nuclear energy, while at the same time addressing the concerns of the international community regarding the proliferation of nuclear weapons. Separately, Turkey does not and will not have any intention whatsoever to acquire nuclear weapons for its own. Turkey has been a long-standing party to all international nuclear non-proliferation regimes (Turkey became a party to the NPT in 1979 and to the CTBT in 2000).  We have been fully observing the principles and obligations enshrined in these regimes and we are encouraging other countries to do so. Our strong stance with respect to proliferation of all weapons of mass destruction in the Middle East and the world is well known.  We strongly support the efforts towards the establishment of a Nuclear Weapons Free Zone  (NWFZ) in the Middle East.  Moreover, Turkey as a long-standing member of NATO, fully enjoys the security guarantees provided by the nuclear deterrence posture of the Alliance confirmed by the 2010 Strategic Concept.  Therefore, there is in fact no rationale for Turkey to develop its own nuclear weapons.'