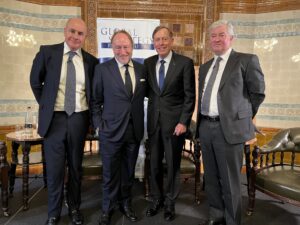 On Wednesday 4th October, for our first event of 2023-2024, we were delighted to welcome to GSF two leading authorities on warfare, both past and present: General David H. Petraeus, the former CIA director who commanded the US-led coalitions in both Iraq and Afghanistan, and the prize-winning historian Andrew Roberts, to discuss their new book, Conflict.
In this wide-ranging history of the evolution of warfare up to Putin's invasion of Ukraine, General Petraeus and Lord Roberts draw significant lessons from an analysis of over seventy years of conflict, including how often critical mistakes have been repeated, and they explore the challenge, for statesmen and generals alike, of learning to adapt to various new weapon systems, theories and strategies. Among the conflicts examined are the Arab–Israeli wars, the Korean and Vietnam wars, the two Gulf wars, the Balkan wars in the former Yugoslavia, both the Soviet and Coalition wars in Afghanistan, as well as guerrilla conflicts in Africa and South America. Conflict culminates with a forthright look at Putin's disastrous invasion of Ukraine and an assessment of the nature of future warfare, to provide a landmark examination both of modern combat and of global military history.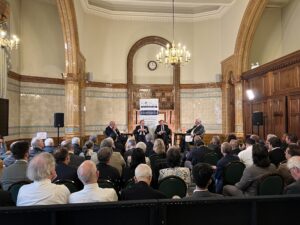 In an event entitled Conflict: The Evolution Of Warfare From 1945 To Ukraine, GSF Advisory Board members, Lord Lothian PC KC DL, Mr Johan Eliasch and General Sir Richard Barrons KCB CBE hosted General David Petraeus and Lord (Andrew) Roberts for a wide-ranging conversation, during which they discussed their analysis of what we must learn from past conflicts and anticipate in the future, in order to navigate an increasingly volatile world.
To watch the conversation, please click here.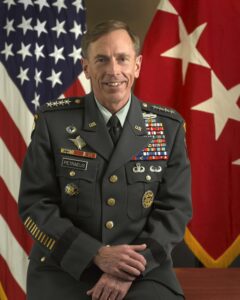 GENERAL DAVID H. PETRAEUS is a retired United States Army general and widely respected as a leading war intellectual. He served for 37 years in the US Army, culminating his career with six consecutive commands, five of which were in combat, including command of the Surge in Iraq, command of US Central Command, and command of coalition forces in Afghanistan. Following retirement from the military and after Senate confirmation, he served as Director of the CIA from September 2011 to November 2012. He is currently a Partner and Chairman of the KKR Global Institute, which he established in May 2013.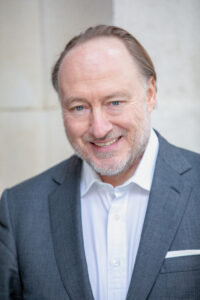 LORD (ANDREW) ROBERTS is an internationally bestselling historian and biographer. He has written 20 books that have been translated into 28 languages and won 13 literary prizes. His books include The Storm Of War, Napoleon the Great (winner of the Grand Prix of the Fondation Napoléon) and George III. He is currently Visiting Professor at the Department of War Studies at King's College, London, and the Roger and Martha Mertz Visiting Research Fellow at the Hoover Institution at Stanford University. His website can be found at www.andrew-roberts.net