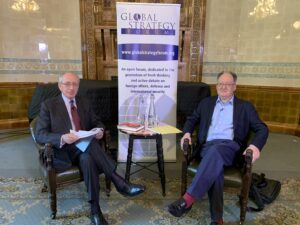 At lunchtime on Tuesday 26th April at GSF, we were delighted to welcome back to GSF Gideon Rachman, the multi-awarding winning chief foreign commentator of The Financial Times. 
He was in conversation with former Foreign Secretary and GSF Advisory Board member, the Rt Hon Sir Malcolm Rifkind,discussing the ideas contained in The Age of The Strongman: How The Cult Of The Leader Threatens Democracy Around the World.
To watch the event, please click here.
At the beginning of April, the right-wing populist, Viktor Orbán, won a fourth successive term as Hungary's prime minister. On 24th April, another European country, France also returned to the polls to choose between incumbent President Emmanuel Macron and the National Rally leader, Marine Le Pen, in a repeat of the 2017 run-off.  While Le Pen did not win, she nonetheless increased her share of the vote to 42% and arguably has brought her  far-right National Rally into the electoral mainstream.
These elections add weight to the central theme of Gideon Rachman's new book, that we are in an era of populist authoritarian leaders who, since the beginning of 2000s when Vladimir Putin took power in Russia, have come to dominate global politics. In The Age Of The Strongman, Rachman analyses the self-styled 'strongmen' who have risen to power in Moscow, Beijing, Delhi, Brasilia, Budapest, Ankara, Riyadh and Washington: 'They are nationalists and social conservatives, with little tolerance for minorities, dissent or the interests of foreigners. At home, they claim to stand up for ordinary people against globalist elites; abroad, they posture as the embodiments of their nations. And they are not just operating in authoritarian political systems but have begun to emerge in the heartlands of liberal democracy.' 
From Putin, Trump and Bolsonaro to Erdogan, Xi and Modi, how and why did this new style of strongman leadership arrive? What defines the new nationalism? How likely is it to lead to war or economic collapse? And what forces are in place not only to keep these strongmen who are reshaping the global order in check, but to reverse the trend?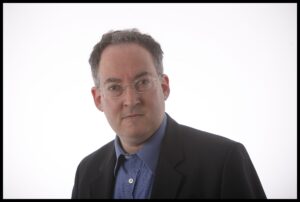 GIDEON RACHMAN is chief foreign affairs commentator for the Financial Times. He writes a weekly column for the FT and hosts an international-affairs podcast. His main interests include geopolitics in Asia, US foreign policy and the future of the EU. Rachman won the Orwell Prize for journalism (2016) and was also named commentator of the year in the European Press Prize awards in 2016. He has written three books on international politics – Zero-Sum World (2011), Easternisation (2016) and Age Of The Strongman (2022). He is also a regular public speaker, appearing before both academic and business audiences.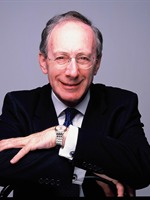 THE RT HON SIR MALCOLM RIFKIND QC (Chair) was elected as MP for Pentlands in 1974, which he represented until 1997. He became a member of the Cabinet in 1986 as Secretary of State for Scotland. In 1990 he became Secretary of State for Transport and in 1992, Secretary of State for Defence. From 1995-97 he was Foreign Secretary. In 1997 he was knighted in recognition of his public service. Sir Malcolm was re-elected as a MP in May 2005 for Kensington and Chelsea and he was elected as MP for Kensington in May 2010 until his retirement at the 2015 general election. He was UK representative on the Commonwealth Eminent Persons Group (2010-2011); and Chairman of the Intelligence and Security Committee of Parliament (2010-2015). He was appointed in 2015 by the OSCE as member of their Eminent Persons Panel examining Russia-West relations and the crisis in Ukraine. He is a member of the Board of the Nuclear Threat Initiative, in Washington DC, chaired by Senator Sam Nunn, and a Member of Madeleine Albright's Aspen Ministerial Forum. He was appointed by the Government as the British Co-Chairman of the Belvedere British-Polish Forum in 2017. He is currently a Visiting Professor at the Department of War Studies at King's College, London and a Distinguished Fellow of the RUSI.