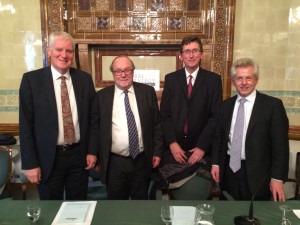 As President Xi Jinping continued his State visit to the UK, GSF hosted a panel discussion on the UK-China relationship in the National Liberal Club on Wednesday 21st October.
Sir Martin Davidson, Chairman of the Great Britain-China Centre, Richard Graham MP, Chair of the All-Party Parliamentary Group on China and Professor Michel Hockx, Professor of Chinese at SOAS, University of London and Founding Director of the SOAS China Institute, spoke in the debate, entitled 'The UK-China Relationship: Should Britain And China 'Stick Together'?', which was chaired by Lord Lothian.
To listen again to the debate, click here.