On Wednesday 20th March, we were honoured to welcome General Peter Pace (United States Marine Corps Retired; Chairman of the Joint Chiefs of Staff 2005-2007) to GSF as our guest lecturer for March.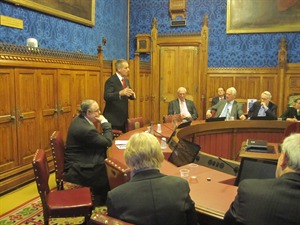 General Pace spoke on 'Cyber Security: Global, National, Organizational And Personal Vulnerabilities' in an evening lecture chaired by Lord Lothian in Committee Room 2 of the House of Lords.
To listen to General Pace's lecture, please click here.
General Peter Pace retired from active duty on 1st October 2007, after more than 40 years of service in the United States Marine Corps.  General Pace was sworn in as sixteenth Chairman of the Joint Chiefs of Staff on 30th September 2005.  In this capacity, he served as the principal military advisor to the President, the Secretary of Defense, the National Security Council, and the Homeland Security Council.  Prior to this, he served as Vice Chairman of the Joint Chiefs of Staff. General Pace holds the distinction of being the first Marine to have served in either of these positions. General Pace was commissioned in June 1967, following graduation from the United States Naval Academy . During his distinguished career, General Pace has held command at virtually every level, beginning as a Rifle Platoon Leader in Vietnam .  He also served as Commanding Officer of 2nd Battalion, 1st Marine Regiment; Commanding Officer of the Marine Barracks in Washington, DC; Deputy Commander, Marine Forces Somalia; Deputy Commander, Joint Task Force Somalia; Director of Operations for the Joint Staff; Commander, US Marine Forces Atlantic/Europe/South; and Commander in Chief, US Southern Command.  In June 2008, General Pace was awarded the Presidential Medal of Freedom, the highest civilian honour a President can bestow.  General Pace is currently serving on the Board of Directors of several corporate entities involved in management consulting, private equity, and IT security.  He served on the President's Intelligence Advisory Board and on the Secretary of Defense's Defense Policy Board.  General Pace is a Distinguished Visiting Research Scholar for Fordham University , and an Adjunct Faculty member of Georgetown University.