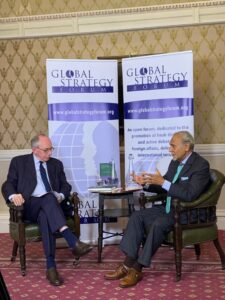 On Friday 24th September, we had great pleasure in welcoming His Royal Highness Prince Turki AlFaisal Al Saud, Director of the General Intelligence Directorate, Saudi Arabia (1977-2001), Saudi Arabian Ambassador to the UK (2002-2005); and Ambassador to the US (2005-2007), back to GSF.
HRH Prince Turki discussed his new book, The Afghanistan File and the era it covers, in conversation with former UK Foreign Secretary and GSF Advisory Board member, The Rt. Hon. Sir Malcolm Rifkind QC.
To learn more about The Afghanistan File' and to buy a copy, click here.
The recording is available on our YouTube channel, or simply by clicking below: