On Wednesday 14th June 2023, we were delighted to welcome Professor Sir David Omand GCB back to GSF to give us his unique insights into how best to survive the multiplying crises of the future. From the outbreak of new wars, destructive cyber-attacks, catastrophic nuclear disasters to devastating pandemics, we never know when a crisis might explode. Some are 'sudden impact' events, such as terrorist attacks or natural disasters, whiles others are 'slow burn' crises, which smoulder away for years, often with warning signs ignored along the way – until they blow up.
Sir David was in conversation with GSF's Chairman, Lord Lothian PC KC DL on the subject of his new book 'How To Survive A Crisis: Lessons In Resilience And Avoiding Disaster', which draws on his unparalleled experience of defence, security and intelligence, including as Director of GCHQ and UK Security and Intelligence Coordinator, to produce an essential guide to crisis prevention, crisis management and crisis survival.
It is fascinating and expert analysis of the way crises develop, how to handle them and critically, how to avoid disaster. Using gripping real-world examples from his uniquely distinguished career, and drawing lessons from historic catastrophes such as Chernobyl, 9/11, the Deepwater Horizon oil spill and the WannaCry ransomware cyberattack, the book contains a wealth of practical advice, including the importance of resilience and preparedness.
To watch the event on our YouTube channel, please click here.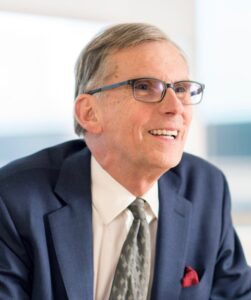 SIR DAVID OMAND GCB is a Visiting Professor in the War Studies Department, King's College London where he teaches intelligence studies. He has been a Vice-President of RUSI and is now a Distinguished Fellow. His posts in government service included UK Security and Intelligence Coordinator, Permanent Secretary of the Home Office and Director of GCHQ, the UK's signals intelligence and cyber-security organisation. In the Ministry of Defence he served as Deputy Under Secretary of State for Policy and as Principal Private Secretary to the Secretary of State. He is on the senior advisory board of Paladin Capital Group investing in the cybersecurity sector and until 2021 was the Senior Independent Director of Babcock International Group plc. He is the author of Securing The State (Hurst 2010), Principled Spying: The Ethics Of Secret Intelligence (OUP 2018), and How Spies Think: 10 Lessons In Intelligence(Penguin Viking 2020).  His most recent book, How To Survive A Crisis: Lessons In Resilience And Avoiding Disaster (Penguin Viking 2023), was published on 1st June 2023.