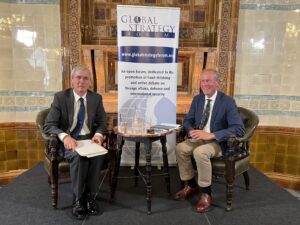 On Wednesday 5th July, we were very pleased to welcome to GSF Sir Laurie Bristow KCMG, President of Hughes Hall, Cambridge University; formerly UK Ambassador to Russia (2016-2020) and UK Ambassador to Afghanistan (2021) for a packed meeting at the National Liberal Club.
Drawing on his unparalleled diplomatic experience, he reflected on 'Russia's Enduring War In Ukraine: The Global Fallout & How Does It End?' in an event hosted by GSF's Chairman, Lord Lothian PC KC DL and chaired by James Kidner.
To watch Sir Laurie's opening remarks, please click here.
August 24th will mark 18 months since Vladimir Putin's invasion of Ukraine. During the past year, a grinding war of attrition has been fought, both on the ground and in the arena of global power politics. All eyes are now on whether the long-expected Ukrainian counteroffensive, currently underway, can drive back entrenched Russian forces and turn the tide in Ukraine's favour. Will this strategy succeed or could Russia prevail instead? Or will it lead to a stalemate and/or further escalation, in an ever more protracted conflict?
On 9th June, the Russian president responded by confirming the deployment of tactical nuclear weapons to Belarus, with a warning to the West that it could not 'inflict a strategic defeat' on Russia. While Western support for Ukraine in the face of Russian aggression has been unprecedented, the war in Europe has divided allegiances in the rest of the world, with potentially long-term geostrategic implications. As NATO allies prepare to meet for their Vilnius summit on 11th-12th July, will this prove a decisive moment, both for the war and for the international political order? For all sides – Ukraine, Russia, and the West – the political and military stakes could not be higher.
***********************
SPEAKER BIOGRAPHY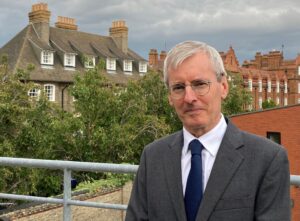 SIR LAURIE BRISTOW, appointed President of Hughes Hall, Cambridge in 2022, served as a British diplomat for 32 years. He was Ambassador to Afghanistan during the fall of the Republic to the Taliban in 2021, the UK's Ambassador to Russia from 2016 to 2020, and Deputy Ambassador to Russia from 2007 to 2010. He was Ambassador to Azerbaijan from 2004 to 2007. Sir Laurie regularly writes and comments on Russia and national and international security issues. He is a Distinguished Fellow of the Royal United Services Institute, a Senior Associate Fellow of the European Leadership Network and Visiting Professor at LSE Ideas.