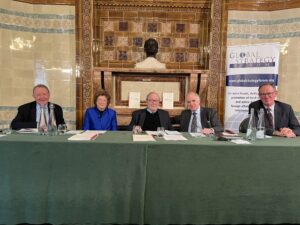 On 12th January 2023, the House of Lords International Relations & Defence Committee published its most recent report, 'UK Defence Policy: From Aspiration To Reality?'. Launched last April, just weeks after Russia's invasion of Ukraine, the Committee's inquiry set out to explore the challenges of converting the government's 2021 aspirational statements – articulated in the March 2021 Defence Command Paper and the Integrated Review – into an effective and operational reality for UK defence.
From the impact of the economic crisis on the 'planned marker' of raising defence expenditure to 3% of GDP by 2030, to an assessment of the scale of the threat from Russia and the urgent need to re-arm in view of the war in the Ukraine, to China and its increasingly aggressive posture towards Taiwan, resilience in stocks and supply chains, R&D defence funding, the need for culture change within the MoD, to the size and capabilities of the Army and whether it is fit for purpose, the report flags up a host of trenchant questions for the government and for its defence priorities. With the conflict in Ukraine changing the calculus on the risk of conventional versus 'sub-threshold' warfare, have those priorities changed in response? To date, the government has committed to reviewing and updating both its 2021 strategy documents, but there has been no pledge of any new money for defence and the UK armed forces.
As the first anniversary of Russia's invasion of Ukraine approaches, the Committee has urged the government to use the findings and recommendations in its report to help to ensure an operationally effective UK defence policy. On Wednesday 22nd February, we were delighted to welcome four of its expert members to GSF to present those findings:  The Rt Hon the Baroness Anelay of St Johns DBE, who chaired the Committee during the inquiry; Professor the Lord Alton of Liverpool (Committee member, 2019-2023); Lord Stirrup KG GCB AFC (current Committee member); and Lord Teverson (current Committee member). They summarised and discussed the conclusions of the 'UK Defence Policy: From Aspiration To Reality?' report, and the event was chaired by Lord Lothian.
To watch the event on our YouTube channel, please click here.
SPEAKER BIOGRAPHIES 
THE RT HON BARONESS ANELAY OF ST JOHNS PC DBE is a Conservative member of the House of Lords and currently a member of the House of Lords European Affairs Select Committee (from January 2023). She has been a trustee of the Parliamentary Human Rights Trust, supporting the work of the All-Party Human Rights Group across both Houses of Parliament, since 2018. She was Chair of the International Relations and Defence Select Committee from July 2019 to January 2023. Baroness Anelay was Minister of State at the Foreign & Commonwealth Office from 2014 to 2017; and attended Cabinet from 2014 to 2016. She was the Prime Minister's Special Representative for the Prevention of Violence in Conflict Initiative (2015-2017) and Government Chief Whip (2010-2014).
PROFESSOR THE LORD ALTON OF LIVERPOOL served in the House of Commons as a Liverpool Member of Parliament from 1979 to 1997. On standing down he was appointed as a Crossbench Life Peer. Having recently completed his three-year term as a member of the House of Lords International Relations and Defence Committee, he now serves on the Joint Parliamentary Committee on Human Rights. He is co-chair or vice-chair of several All-Party Parliamentary Groups (including those on Uyghurs, Yazidis, Hazara, Eritrea, Pakistan Minorities, Hong Kong, North Korea and Freedom of Religion or Belief). He is a Professor at Liverpool Hope University and his most recent book (2022) was on State Responses To The Crime of Genocide. He has been sanctioned by the People's Republic of China and Iran. He and Lizzie live in Lancashire.
MARSHAL OF THE ROYAL AIR FORCE THE LORD STIRRUP KG GCB AFC was born in London and educated at Merchant Taylors' School and the Royal Air Force College Cranwell. He was commissioned into the Royal Air Force in 1970.  From 1971 to 1984, he held various flying appointments in the UK, Middle East and USA.  In 1985 he received a command appointment as Officer Commanding No. 2 Squadron, based in Germany, and then in 1987 was appointed Personal Staff Officer to the Chief of the Air Staff.  From 1994 to 1997, he served as Director of Air Force Plans and Programmes with the Ministry of Defence, before becoming Air Officer Commanding No. 1 Group RAF and then from 1998 to 2000, Assistant Chief of Air Staff. Appointed Deputy Commander-in-Chief of Strike Command in 2000 and Deputy Chief of Defence Staff (Equipment Capability) in 2002, he became Chief of Air Staff in 2003 and Chief of Defence Staff from 2006 to 2010. He was made a Life Peer as Baron of Marylebone in the City of Westminster and since 2011 has sat as a crossbencher in the House of Lords. He has been a member of the International Relations and Defence Committee since 2021.
LORD TEVERSON was the Liberal Democrat MEP for Cornwall and West Plymouth from 1994 to 1999. An economist by training, he started his career in the freight industry. As an MEP he specialised in fisheries and regional issues, themes that he has continued to pursue in his public life. After leaving the European Parliament he led two regional venture capital funds in the South West, and served for four years as a member of Cornwall Council from 2009-2013. He was a member of the newly formed Cornwall and Scilly Local Enterprise Partnership. He is currently a director with Devon and Cornwall Business Council, and a trustee of Regen SW. Since 2006, he has been a member of the House of Lords where he speaks on energy and climate change. He has been a member of the International Relations and Defence Committee since 2021. He lives in Cornwall and is a fellow of the Chartered Institute of Securities and Investment.