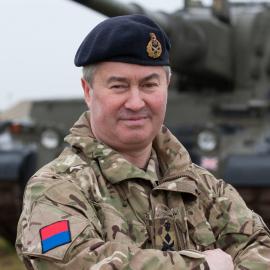 We are delighted that General Sir Richard Barrons KCB CBE has joined GSF's Advisory Board.
Making the announcement, Lord Lothian, GSF's Chairman, said 'I am delighted that Richard has agreed to become a member of GSF's Advisory Board. He has had a tremendously distinguished career in the Army and I am delighted that he has agreed to bring his expertise and knowledge to GSF'.
General Sir Richard Barrons KCB CBE served as Commander Joint Forces Command, one of the six 'Chiefs of Staff" leading the UK Armed Forces until April 2016. He was responsible for 23,000 people worldwide and a budget of £4.3bn, delivering intelligence, Special Forces, operational command and control, all surveillance, reconnaissance and information systems and communications, operational logistics, medical support, and advanced education and training across the Armed Forces. An artillery officer, his military career included leadership from Captain to General on military operations in Bosnia, Kosovo, Northern Ireland, Iraq and Afghanistan – often as part of US-led coalitions and in NATO. He is President and Colonel Commandant of the Honourable Artillery Company, a Senior Associate Fellow at RUSI, and a Visiting Senior Fellow at LSE IDEAS.  His ambitions now are to be at forefront of applying disruptive technology as it revolutionises business, society, government and defence, to find a leading part in addressing the causes of instability, tension and conflict in a rapidly changing world, and to contribute to the continuing evolution of defence and security thinking worldwide. He provides board-level geo-strategic insight, advice and influence, and supports senior corporate leadership development programmes. He advises and lectures regularly on defence and security policy, cyber risk and security to City, academic, parliament, military and commercial fora.  In promoting the rapid development of combinations of the digital age technologies in the 4th Industrial Revolution, he is developing the principles and major capability bets that should guide the transformation of Western defence in particular.