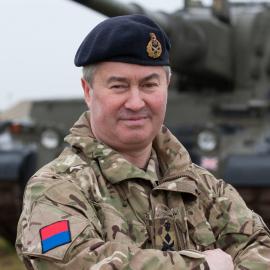 General Sir Richard Barrons KCB CBE
Advisory Board member
General Sir Richard Barrons KCB CBE served as Commander Joint Forces Command, one of the six 'Chiefs of Staff" leading the UK Armed Forces until April 2016. He was responsible for 23,000 people worldwide and a budget of £4.3bn, delivering intelligence, Special Forces, operational command and control, all surveillance, reconnaissance and information systems and communications, operational logistics, medical support, and advanced education and training across the Armed Forces. An artillery officer, his military career included leadership from Captain to General on military operations in Bosnia, Kosovo, Northern Ireland, Iraq and Afghanistan – often as part of US-led coalitions and in NATO. He is President and Colonel Commandant of the Honourable Artillery Company, a Senior Associate Fellow at RUSI, and a Visiting Senior Fellow at LSE IDEAS.  His ambitions now are to be at forefront of applying disruptive technology as it revolutionises business, society, government and defence, to find a leading part in addressing the causes of instability, tension and conflict in a rapidly changing world, and to contribute to the continuing evolution of defence and security thinking worldwide. He provides board-level geo-strategic insight, advice and influence, and supports senior corporate leadership development programmes. He advises and lectures regularly on defence and security policy, cyber risk and security to City, academic, parliament, military and commercial fora.  In promoting the rapid development of combinations of the digital age technologies in the 4th Industrial Revolution, he is developing the principles and major capability bets that should guide the transformation of Western defence in particul
The Rt Hon. the Lord Campbell of Pittenweem CH CBE PC QC
Advisory Board member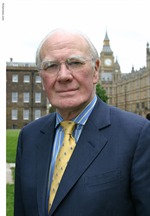 The Rt Hon Lord Campbell of Pittenweem is one of the most respected and successful politicians of his generation. He was educated at Hillhead High School and the University of Glasgow where he graduated MA and LLB and was President of the Union, and Stanford University, California, where he undertook post-graduate studies in international law. He competed in the 1964 Tokyo Olympics and was captain of the UK Athletics Team in 1965 and 1966. He held the British 100m record from 1967 to 1974. He was called to the Scottish Bar as an advocate in 1968 and appointed Queens Counsel in 1982. He was elected MP for North East Fife in 1987. In Parliament, his particular interests were foreign affairs and defence and he was his Party's principal spokesman on both. He has been a member of the Foreign Affairs, Defence, Members Interests, Trade and Industry, and Intelligence Committees. He was elected Deputy Leader of the Liberal Democrats in 2003 and was the Leader of the Party between March 2006 and October 2007. He led the UK delegation to the NATO Parliamentary Assembly between 2010 and 2015 and was later elected a Vice President of the Assembly. He was awarded the CBE in 1987, became a Privy Councillor in 1999, knighted in 2004 and appointed a Companion of Honour in 2013. He holds honorary degrees from three Scottish Universities, including St Andrews where he became Chancellor in 2006. He stood down from the House of Commons in 2015 and the same year was appointed to the House of Lords.
Professor Michael Clarke
Advisory Board member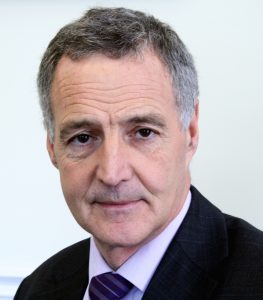 Professor Michael Clarke was Director General of the Royal United Services Institute (RUSI) from 2007 to 2015 when he retired from that role. Until 2001 he was Deputy Vice-Principal and Director for Research Development at King's College London, where he remains a Visiting Professor of Defence Studies. From 1990 to 2001 he was the founding Director of the Centre for Defence Studies at King's. He was appointed Professor in 1995. He is now a Fellow of King's College London and of the Universities of Aberystwyth and of Exeter, where he is also Associate Director of the Strategic Studies Institute. He has previously taught at the Universities of Aberystwyth, Manchester and Newcastle-upon-Tyne, and also at the University of New Brunswick and the Open University. He has been a Guest Fellow at the Brookings Institution, Washington DC, and a Fellow in Foreign Policy Studies at the Royal Institute of International Affairs (Chatham House) in London. He has been a specialist adviser to the House of Commons Defence Committee since 1997, having served previously with the House of Commons Foreign Affairs Committee 1995-6, and the Joint Parliamentary Committee on Bribery in 2009. In 2004 he was appointed as the UK's member of the UN Secretary General's Advisory Board on Disarmament Matters. In 2009 he was appointed to the Prime Minister's National Security Forum and in 2010 to the Chief of Defence Staff's Strategic Advisory Group. He also served on the Strategic Advisory Panel on Defence for UK Trade and Industry and in 2014 was Chairman of the Defence Communications Advisory panel for the Ministry of Defence. In March 2014 he was appointed by the Deputy Prime Minister to chair an Independent Surveillance Review at RUSI which reported in 2015. That report; A Democratic Licence to Operate: The Report of the Independent Surveillance Review, was published as part of the public discussion around the Interception of Communications Bill, due to be enacted into law by December 2016. In January 2016 he was appointed a specialist adviser to the Joint National Committee on Security Strategy for the period of the current Parliament. In October 2016 he was also appointed to Chair the All-Party Parliamentary Group Commission on Drone Warfare.
Secretary William S. Cohen
Advisory Board member
William S. Cohen is Chairman and CEO of The Cohen Group, a business consulting firm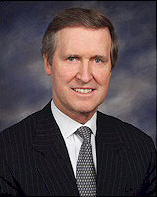 based in Washington, DC which provides business consulting and advice on tactical and strategic opportunities to clients in quickly changing markets around the world. He serves on the board of CBS, and on the advisory boards of the US–India Business Council, the US-China Business Council and Barrick Gold International. He is a senior counselor at the Center for Strategic and International Studies, and the weekly World Affairs Contributor for CNN's Situation Room with Wolf Blitzer. Secretary Cohen served as Secretary of Defense from 1997 to 2001, where he oversaw the largest organisation in the US with a budget of $300 billion and three million military and civilian personnel. Under his leadership, the U.S. military conducted operations on every continent, including the largest aerial bombardment (Kosovo and Bosnia) since World War II. His term as Secretary of Defense marked the first time in modern US history that a President chose an elected official from the other party for his cabinet. Before his tenure at the Department of Defense, he served three terms in the US Senate and three terms in the US House of Representatives, where he served on the House Judiciary Committee during the 1974 impeachment proceedings and the 1987 Iran-Contra Committee. He also served as mayor of Bangor, Maine. Secretary Cohen was born in Bangor, Maine and received a B.A. in Latin from Bowdoin College, and a law degree from Boston University Law School. He has written or co-authored ten books – four non-fiction works, four novels, and two books of poetry.
Adrian de Ferranti
Treasurer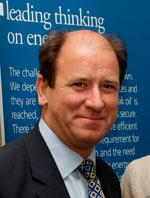 Adrian de Ferranti was the founder of Ferranti Ltd, an early stage venture capital business. He was also a founder and/or Chairman of Tantus PLC, Cambridge Computer Graphics, Chelford PLC, and PTG. He had an early career at European Banking Company, Murray Johnstone, followed by Montgomery Securities. He is currently the Chairman, Director or investor in NEST, Same Wave, SMB, Ampair, Plasmanet, Updata, Ziani's, Como Lario, Ferranti Farming, and Small Business Bureau. He was the Chairman and Trustee of the Royal Institution of Great Britain from 2007-2010. From 2007-13 he was Chairman of the Foundation at Heriot Watt University. He was also a Treasurer of the Conservative Party from 1991-2004.
Sir Evelyn de Rothschild
Advisory Board member
Sir Evelyn de Rothschild is currently Chairman of E.L. Rothschild, a private investment company.  He is Chairman of the ERANDA Foundation, a family foundation he founded in 1967 to support charities working in the fields of medical research, health and welfare, education and the arts. In addition, Sir Evelyn currently serves as a Governor Emeritus of the London School of Economics and Political Science, Fellow of Imperial College London and is an Honorary Life President of Norwood and Ravenswood Children's Charity.  From 1976 until 2003, Sir Evelyn was Chairman and CEO of NM Rothschild and Sons Ltd, the international investment bank.  From 1972 until 1989, Sir Evelyn also served as Chairman of the Economist Group, from 1977 to 1994 Chairman of United Racecourses Ltd and previously he served on the Board of Directors of De Beers and IBM UK as well as serving as Deputy Chairman of Milton Keynes Development Corporation, Chairman of St Mary's Hospital Medical School, Member of the Council of the Shakespeare Globe Trust  and President of The Evelina Children's Hospital Appeal. He was knighted by Queen Elizabeth 11 in 1989 for services to banking and finance.  He is married to Lynn Forester and has three children and two step – children
Susan Eisenhower
Advisory Board member
Susan Eisenhower is the CEO and Chairman of The Eisenhower Group, Inc, a Washington D.C. based consulting company founded in 1986. For more than twenty-five years the company has provided strategic counsel on business development, public affairs and communications projects. EGI has worked on complicated assignments, not just in the United States, but also abroad—in China, Russia, Central Asia and Western Europe for such companies as American Express, IBM, Coca Cola, AES, Alcoa, and General Electric.  In addition to her work through EGI, Susan Eisenhower has also had a distinguished career as a policy analyst.  She has also been a Fellow at Harvard's Institute of Politics and a Distinguished Fellow at the Nixon Center, now called the Center for National Interest. She is Chairman Emeritus at the Eisenhower Institute of Gettysburg College.  Over the years, she has served as a member of three blue ribbon commissions for the Department of Energy for three different secretaries: The Baker Cutler Commission on US Funded Non-Proliferation Programs in Russia; The Sununu-Meserve Commission on Nuclear Energy; and the Blue Ribbon Commission on America's Nuclear Future, which released its findings on a comprehensive program for the back end of the nuclear fuel cycle in the winter of 2012. She was also appointed to the National Academy of Sciences Standing Committee on International Security and Arms Control, where she served eight years. After as many years on the NASA Advisory Council, she served as a commissioner on the International Space Station Management and Cost Evaluation Task Force. She is currently a member of MIT's Energy Initiative Advisory Board and co-chairman of NEAC, the Secretary of Energy's Nuclear Energy Advisory Board. In addition, Ms. Eisenhower has done extensive work in executive training on strategic leadership. She has spoken on this subject in many corporate venues, as well as at such distinguished institutions as the United States Military Academy at West Point; the Foreign Policy Association in New York; the Army War College, Carlisle; Sandia National Laboratory, MIT and Australia's Science and Technology Organization, which is part of their Ministry of Defence. Eisenhower holds a year-long seminar on strategy for competitively selected students at the Eisenhower Institute of Gettysburg College.  She has authored hundreds of op-eds for newspapers such as the Washington Post, the LA Times, appeared frequently on national television and radio, and her articles have appeared in such journals as the National Academy of Sciences' Issues in Science and Technology and the Naval Institutes' Proceedings. She has written four trade press books, two of which were on regional best seller lists, and she co-authored or co-edited four other books on international security issues.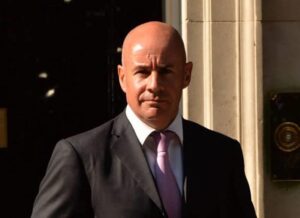 Johan Eliasch
President of Global Strategy Forum
Johan Eliasch is the 5th President of the International Ski Federation FIS, Chairman of the global sporting goods group HEAD and the former Special Representative of the Prime Minister of the United Kingdom. He is currently the chairman of ECJ Holdings, London Films, the Saatchi Gallery and Cool Earth, the founder of Rainforest Trust which preserves 1,600 square kilometres of rainforest in the Amazonas, and advisory board member of Brasilinvest and the Stockholm Resilience Centre. He previously served as chairman of Starr Managing Agents, Aman Resorts and Investcorp Europe, as trustee of the Kew Foundation, as a board member of IMG and the Special Olympics Great Britain, as advisory board member of the Shimon Peres Peace Centre, World Peace Foundation, the Centre for Social Justice, Societe du Louvre and the British Olympic Association, and as a member of the Mayor of London's (Boris Johnson), Jerusalem's and Rome's International Business Advisory Councils. He chaired the Eliasch Review: Climate Change – Financing Global Forests, an independent review commissioned by the UK government in 2008. He chaired the 2021 HM Treasury net zero review technology and innovation advisory group, RUSI's Food, Energy and Water security program, and was a member of the DEFRA Council for Sustainable Business. He served as a member of the Austrian President's delegation of state for Trade and Industry and in different roles in the UK Conservative Party – advisor to the Leaders of the Opposition, Shadow Foreign Relations, European Affairs and Deputy Party Treasurer. He is a patron of the Stockholm University.
The Rt Hon the Lord Field of Birkenhead
Advisory Board member
From 1969-79, Frank Field worked as Director of the Child Poverty Action Group, during
which time it became one of the premier pressure groups in the country. In 1974 he also became Director of the Low Pay Unit until 1980. In 1979, he was elected Member of Parliament for Birkenhead. Between 1980 and 1981 he served as Shadow Education and Social Security spokesman under the leadership of Michael Foot. In 1990 he took up the chairmanship of the Social Security Select Committee and continued in this role up to 1997. From 1997-1998 he accepted the position of Minister for Welfare Reform in Tony Blair's first cabinet. Since then, he has served as a member of the Public Accounts Committee between 2002 and 2005. Outside of Parliament, he is equally busy and committed. In 1999 he helped set up the Pension Reform Group which he chairs. The group has acted as an important independent think tank for the cause of a long-term, investment led reform to the pension system. Since 2001 he has also chaired the Church Conservation Trust and has helped develop the trust from being one primarily concerned with conserving the best architectural gems of the Church to one which tries to open up such places for alternative use. From 2005, he has also been chairman of the Cathedral Fabrics Commission which is the planning authority for English cathedrals.
Secretary Chuck Hagel
Advisory Board member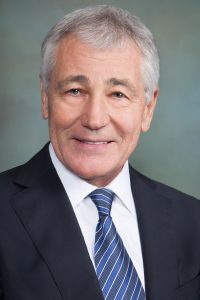 Chuck Hagel was the 24th Secretary of Defense, serving from February 2013 to February 2015. He is the only Vietnam veteran and the first enlisted combat veteran to serve as Secretary of Defense. Hagel also served two terms in the United States Senate (1997-2009) representing the state of Nebraska. Some of Hagel's current commitments include serving on the Board of Trustees of RAND; Advisory Boards of Deutsche Bank America and Corsair Capital; Senior Advisor to Gallup and to the McCarthy Group; Distinguished Executive in Residence at Georgetown University; Distinguished Statesman at the Atlantic Council; and Board of Directors of the American Security Project. Previously, Secretary Hagel served on the Board of the Chevron Corporation and the Zurich Holding Company of America, was a Distinguished Professor at Georgetown University, Co-Chairman of the President's Intelligence Advisory Board, Chairman of the Atlantic Council, Chairman of the United States of America Vietnam War Commemoration Advisory Committee, and Co-Chairman of the Vietnam Veterans Memorial Fund Corporate Council. He served as a member of the Secretary of Defense's Policy Board, Secretary of Energy's Blue Ribbon Commission on the Future of Nuclear Power, the Public Broadcasting Service (PBS) Board of Directors and the Systemic Risk Council. Prior to his election to the U.S. Senate, Hagel was president of McCarthy & Company, an investment banking firm in Omaha, Nebraska. In the mid-1980's, Hagel co-founded VANGUARD Cellular Systems, Inc., a publicly traded corporation. He was President and CEO of the World USO, Private Sector Council (PSC), and Chief Operating Officer of the 1990 Economic Summit of Industrialized Nations (G-7 Summit). Hagel also served as Deputy Administrator of the Veterans Administration under President Ronald Reagan and Deputy Commissioner General of the 1982 World's Fair. He is the author of the book, America: Our Next Chapter and was the subject of a 2006 book by Charlyne Berens entitled, Chuck Hagel: Moving Forward. A graduate of the University of Nebraska at Omaha, Hagel and his wife, Lilibet, have a daughter (Allyn) and son (Ziller).
The Rt Hon the Lord Hammond of Runnymede

Advisory Board member
Philip Hammond has been a UK Cabinet Minister and key member of the British Government for almost a decade.  Leading four departments over nine years, and rising to the second most powerful job in government, he is one of only three people to serve continuously in the UK cabinet from 2010 to 2019, serving under Prime Ministers David Cameron and Theresa May.  Taking on the role of Chancellor of the Exchequer shortly after the 2016 Brexit Referendum, Hammond took charge of the UK economy at a time of unprecedented uncertainty. Philip Hammond has always believed that nobody voted for Brexit with a view to becoming poorer or less secure, and thus that the best way of delivering the result of the referendum is to negotiate a deal with the European Union that allows a continued close economic partnership, even after the UK leaves the EU. He fought strongly for this approach within the cabinet and has continued to do so since leaving government.  He also focused on the needs of business and particularly the need to protect London's global financial markets. Hammond has been especially focused on the challenges faced by developed economies, specifically: the technological revolution and how it is already transforming the way we work and live our lives; climate change and how to harness the market economy to deliver decarbonisation; demographic shifts and the challenges of an ageing population, and particularly in the UK, the challenge of raising productivity. Through his roles as Chancellor and as Foreign Secretary, Philip Hammond has considerable experience of working with China, and clear views about how to manage the integration of China as a major economic and strategic power into the global system. He also has strong connections in the Gulf region. He was part of the "E3+3" team that negotiated the JCPOA nuclear arms control deal with Iran in 2015. During his tenure as Defence and then Foreign Secretary, Hammond built strong links with the US and other allied counterparts, both civilian and military, and was a frequent visitor to Afghanistan during the campaign. Hammond's experience as Chancellor and as Foreign and Defence Secretary give him a strong grasp of the strategic issues facing the Western Alliance, as well as the economic and scientific and technological challenges.  Philip Hammond grew up in Essex, and studied Philosophy, Politics and Economics at University College, Oxford. Before entering Parliament in 1997, he had a wide-ranging business career across a number of sectors including healthcare, oil and gas and property, in the UK and in Europe.  He stepped down as the Member of Parliament for Runnymede and Weybridge in November 2019 after 22 years serving the Surrey constituency.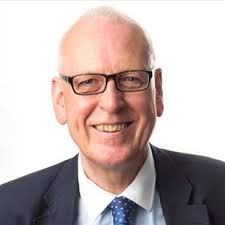 Lord Hennessy of Nympsfield
Advisory Board member
Lord Hennessy of Nympsfield is a British historian of government. Since 1992, he has been Professor of Contemporary British History at Queen Mary, University of London. Prior to that, he was a journalist for twenty years with spells on The Times as a leader writer and Whitehall Correspondent, The Financial Times as its Lobby Correspondent at Westminster and The Economist. He was a regular presenter of the BBC Radio 4 Analysis programme from 1987 to 1992. In 1986 he was a co-founder of the Institute of Contemporary British History and he was elected a fellow of the British Academy in 2003. In 2008, Lord Hennessy won The Times Higher Education's Lifetime Achievement Award. On 5th October 2010, the House of Lords Appointments Commission announced that he was to be appointed a non-political cross-bench Peer. He is a Member of the Chief of the Defence Staff's Strategic Advisory Panel. Lord Hennessy is author of several books, including Cabinets and the Bomb (2007) and The Secret State (2010).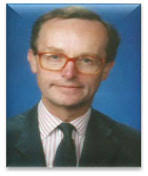 William Kerr
Advisory Board member
William Kerr was educated at Ampleforth College and Oxford University. His career was spent in financial services initially in the City of London. He moved to Hong Kong in 1992 to establish Lloyd George Management, an investment advisory company specialising in investment in Asian and global Emerging Markets. He returned to the United Kingdom at the end of 2013 and remains on the boards of a number of investment companies, as well as serving as Trustee for charitable and other organisations.
The Rt Hon Lord Lamont of Lerwick
Advisory Board member
The Rt Hon Lord Lamont of Lerwick was at the centre of British politics for many years. He was Chancellor of the Exchequer from 1990 – 93 and Chief Secretary to the Treasury under Margaret Thatcher.  He was a member of the House of Commons for 25 years. He was also a Minister in the Departments of Energy, Defence and Industry. He is currently a director of or consultant to a number of companies in the financial sector, several with Middle East involvement. He is Chairman of the British Iranian Chamber of Commerce, President of the Economic Research Council and a former Chairman of Le Cercle (a foreign affairs think tank). He was made a Life Peer in July 1998.  He is an Honorary Fellow of Fitzwilliam College, Cambridge.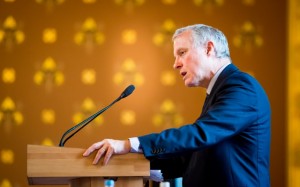 Sir Iain Lobban KCMG
Advisory Board member
Iain Lobban was the Director of the British security and intelligence agency, Government Communications Headquarters, from 2008 to 2014, having previously served as its Director General for Operations.  He pioneered an integrated service of intelligence and security in domains as varied as cyber defence; counter terrorism; military campaigns overseas; and the prevention and detection of serious crime. Cyber Security, both nationally and internationally, has been at the heart of his role in recent years: he set new direction for innovative government partnering with the private sector and with academia.  As the GCHQ Director he attended the UK's National Security Council on a weekly basis from its very first meeting in May 2010 and was a Principal member of the Joint Intelligence Committee for over six years. Sir Iain is now engaged in three fields: the advocacy and demystification of Cyber Security, providing strategic advice and personal perspective, nationally and internationally, to governments and businesses; sharing lessons and insights on strategic and institutional leadership; and entrepreneurship, in the broadest sense of the word.
Lord Lothian PC DL
Chairman, Global Strategy Forum

Lord Lothian (formerly Michael Ancram) is the first Chairman of the Forum. He served in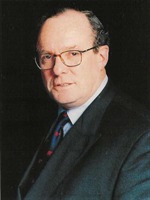 the last Conservative Government and from 2001 to 2005 held the portfolios of Deputy Leader, Shadow Foreign Secretary and Shadow Defence Secretary. He served on the House of Commons Intelligence Select Committee until he stood down from Parliament at the May 2010 General Election. On 22nd November 2010, he was created a Conservative life peer as Baron Kerr of Monteviot, of Monteviot in Roxburghshire, and was introduced in the House of Lords the same day.
Sir David Manning GCMG KCVO
Advisory Board member

Sir David Manning was educated at Oriel College, Oxford and the School for Advanced International Studies at Johns Hopkins University before joining the Foreign and Commonwealth Office in 1972.  He served in Warsaw, New Delhi, Paris and Moscow. From 1994-5 he was Head of Policy Planning; from 1995-8 Ambassador to Israel; and from 1998-2000 he was Deputy Under Secretary of State for Defence and Intelligence and a member of the Foreign Office Board. He was the UK Permanent Representative at NATO (Brussels) from 2000-2001 before returning to London as Foreign Policy Adviser to the Prime Minister and Head of the Defence and Overseas Secretariat (2001-2003). He was then Ambassador to the United States for four years from 2003-2007. Sir David is a Director of Gatehouse Advisory Partners. He is also a Member of the Council of Lloyd's of London.
General David H. Petraeus
Advisory Board member
General David H. Petraeus (US Army, Ret.) is a Partner in the global investment firm KKR and Chairman of the KKR Global Institute, which he established in mid-2013. He is also a member of the boards of Optiv and OneStream, a personal venture investor, and engaged in various academic endeavors. Prior to joining KKR, General Petraeus served over 37 years in the U.S. military, culminating his career with six consecutive commands, five of which were in combat, including command of the Surge in Iraq, command of U.S. Central Command, and command of forces in Afghanistan.  Following retirement from the military, and after confirmation by the Senate in a vote of 94-0, he served as the Director of the CIA during a period of significant achievements in the war on terror. General Petraeus graduated with distinction from the US Military Academy and later earned a Ph.D. from Princeton University.  He is the only US Army officer in history to be the top graduate in both the demanding US Army Ranger School and the year-long Command and General Staff College course.  He has held academic affiliations with the US Military Academy, the University of Southern California, Harvard, and the City University of New York, and he is currently a Senior Fellow and Lecturer at Yale, an Honorary Professor at the University of Birmingham, a member of the Trilateral Commission and the Aspen Strategy Group, Co-Chairman of the Global Advisory Council of the Woodrow Wilson Center, and Senior Vice President of the Royal United Services Institute.  Over the past 15 years, General Petraeus has been named one of America's 25 Best Leaders by U.S. News and World Report, a runner-up for Time magazine's Person of the Year, twice a Time 100 selectee, Princeton University's Madison Medalist, Prospect Magazine's Public Intellectual of the Year, and three times one of Foreign Policy magazine's top 100 public intellectuals. General Petraeus has earned numerous awards and decorations including four Defense Distinguished Service Medals, the Secretary of State's Distinguished Service Medal, the Bronze Star Medal for Valor, two NATO Meritorious Service Medals, the Combat Action Badge, Master Parachutist Wings, and the Ranger Tab.  He has also been decorated by 13 foreign countries, and he is believed to be the only person, while in uniform, to throw out the first pitch of a baseball World Series Game and to do the coin toss at a Super Bowl.
Rt Hon Sir Malcolm Rifkind 
Advisory Board member
Rt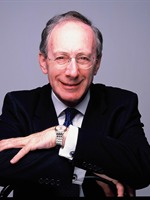 Hon Sir Malcolm Rifkind QC was elected as MP for Pentlands in 1974, which he represented until 1997. In 1979, when the Conservatives were returned to power under Margaret Thatcher, Sir Malcolm was appointed a Parliamentary Under Secretary of State, at first in the Scottish Office and he was then transferred to the FCO, being promoted to Minister of State in 1983. He became a member of the Cabinet in 1986 as Secretary of State for Scotland. In 1990 he became Secretary of State for Transport and in 1992, Secretary of State for Defence.  From 1995-97 he was Foreign Secretary.  In 1997 he was knighted in recognition of his public service. Sir Malcolm was re-elected as a MP in May 2005 for Kensington and Chelsea and he was elected as MP for Kensington in May 2010 until his retirement at the 2015 general election. He served as the Shadow Secretary of State for Work & Pensions and Welfare Reform until December 2005 when he chose to return to the backbenches. He was Chairman of the Standards & Privileges Committee (2009-2010); UK representative on the Commonwealth Eminent Persons Group (2010-2011); and Chairman of the Intelligence and Security Committee of Parliament (2010-2015). He was appointed in 2015 by OSCE as member of their Eminent Persons Panel examining Russia-West relations and the crisis in Ukraine. He is a member of the Board of the Nuclear Threat Initiative chaired by Senator Sam Nunn and a Member of Madeleine Albright's Aspen Ministerial Forum.
Marshal of the Royal Air Force The Lord Stirrup KG GCB AFC
Advisory Board member
Lord Stirrup was born in London, and educated at Merchant Taylors' School and the Royal Air Force College Cranwell. He was commissioned into the Royal Air Force in 1970, and after pilot training completed a number of tours in the instructor and fighter reconnaissance roles. This included two years on loan service with the Sultan of Oman's Air Force during the Dhofar War, and three years on exchange with the United States Air Force in Texas. In the 1980s Lord Stirrup commanded No II (AC) Squadron, flying Jaguar aircraft from RAF Laarbruch in Germany, and from 1990 to 1992 he was Officer Commanding RAF Marham in Norfolk, a period that covered the first Gulf War. After attending the Royal College of Defence Studies and the Higher Command and Staff Course, Lord Stirrup served as the Director of Air Force Plans and Programmes in the Ministry of Defence before becoming Air Officer Commanding No 1 Group in 1997. He was Assistant Chief of the Air Staff from 1998 to 2000, and then took up the post of Deputy Commander in Chief Royal Air Force Strike Command. In 2001 he was deployed to United States Central Command immediately following 9/11, and commanded British forces during Operation Veritas, the UK's contribution to Operation Enduring Freedom in Afghanistan. Following a tour as Deputy Chief of the Defence Staff for Equipment, he became Chief of the Air Staff in 2003, and was appointed as Chief of the Defence staff in 2006.  Following retirement from the military, he was appointed to the House of Lords in 2011, where he is particularly involved in the areas of defence, security, foreign relations and the arts. He lives in Marylebone, is married with one son, a practising cardiologist, and maintains a keen interest in history, music and the theatre.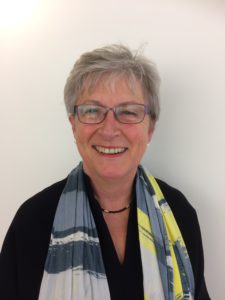 Rt Hon Gisela Stuart
Advisory Board member
The Rt Hon Gisela Stuart served as Labour MP for Birmingham Edgbaston from 1997 – 2017, when she decided to step down from Parliament.  She was a health minister in the first Blair Government. From 2002 to 2003 she was the parliamentary representative on the Presidium of the Convention on the Future of Europe. One of her fellow Presidium members was the then French Commissioner Michael Barnier. The experience led her to question the direction of the European project. Her Fabian pamphlet The Making of Europe's Constitution summarises her concerns then and ultimately led her to Chair the successful Vote Leave campaign in the 2016 referendum.  In parliament she served on the Defence and Foreign Affairs Select Committees. In 2015 the Prime Minister appointed her to the Intelligence and Security Committee.  Gisela is a founding member of the Henry Jackson Society and still one of its Directors. She is a trustee of Reading Force, a charity devoted to helping service families stay in touch by sharing books.  For more than 10 years she edited the political weekly magazine The House.  Since leaving parliament she chairs Change Britain, a cross party organisation committed to achieving a Brexit deal which is in the best interest of the UK and the EU.  Gisela chairs the Legatum Effective Government Commission and in October 2018, she was appointed by the Foreign Secretary to chair the Wilton Park Board.
Rt Hon Jack Straw
Advisory Board member
The Rt Hon Jack Straw was the Member of Parliament for Blackburn from 1979 to 2015. From 2007 to 2010, he was the Lord High Chancellor of Great Britain and the Secretary of State for Justice. He has served as Home Secretary from 1997 to 2001, Foreign Secretary from 2001 to 2006 and Lord Privy Seal and Leader of the House of Commons from 2006 to 2007. Following the election in May 2010, he became the Shadow Lord Chancellor and Shadow Secretary of State for Justice, but announced his intention to step down from the front bench after the Labour Party Conference of that year. His autobiography, Last Man Standing: Memoirs of A Political Survivor was published in September 2012. He retired as MP for Blackburn at the May 2015 general election. He continues to play a leading role in national politics, on home and foreign policy. He is co-Chairman of the British Turkish Forum; takes a close interest in Iran; is a member of the Independent Commission on the Freedom of Information Act; and Chairman of the Blackburn Youth Zone.
HRH Prince El Hassan bin Talal
Advisory Board member
His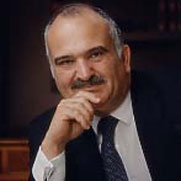 Royal Highness Prince El Hassan bin Talal is a direct descendant of the Prophet Muhammad (PBUH) and is the brother of His late Majesty King Hussein and the uncle of HM King Abdullah II of Jordan, serving as Jordan's Crown Prince from 1965 until 1999. A pluralist and staunch campaigner for the rights of all to live in peace and dignity, HRH is a pioneer of Interfaith dialogue and understanding. Prince Hassan's international commitments have included co-chairing the Independent Commission on International Humanitarian Issues and his current membership of the Commission on Legal Empowerment of the Poor. Prince Hassan has long had an active engagement with environmental organisations, having recently served as the Chairman of the UN Secretary-General's Advisory Board on Water and Sanitation. Prince Hassan currently chairs the High Level Forum for the Blue Peace Middle East plan. HRH established the Arab Thought Forum, the Royal Institute for Interfaith Studies, the Higher Council for Science and Technology, the Royal Scientific Society and the West Asia-North Africa (WANA) Institute.
Sir Kevin Tebbit KCB CMG
Advisory Board member

Sir Kevin Tebbit was Permanent Secretary at the UK Ministry of Defence from 1998 -2005, following a short period as Director of GCHQ. His initial career was with the Ministry of Defence and subsequently, from 1979, with the Foreign and Commonwealth Office. His diplomatic postings overseas were: First Secretary, UK Delegation to NATO; Head of Chancery in the British Embassy at Ankara; Director of Cabinet to the NATO Secretary General, Lord Carrington; and Counsellor at the British Embassy in Washington DC. Appointments at home covered defence policy and programmes, international economic relations and resource management. Sir Kevin is now engaged in business, academia and in advising Government. He is a Non – Executive Director of Smiths Group Plc, Chairs the Ascot Barclay Group and is the UK Executive Vice President (Defence and Government) for AECOM Corporation.. He is a Visiting Professor at King's College London, a Senior Associate Fellow at the Royal United Services Institute, and serves on academic Advisory Boards.
Admiral The Rt Hon Baron West of Spithead GCB DSC PC ADC DUniv 
Advisory Board member
Born 1948, Admiral Lord West joined the Navy in 1965. He spent the majority of his naval
career at sea, serving in fourteen different ships and commanding three of them. He is a graduate of the Royal Naval Staff Course, the Higher Command and Staff Course and The Royal College of Defence Studies. In 1980 he took command of the frigate HMS ARDENT taking her south to the Falkland Islands in 1982 where she was sunk in their successful recapture. He was subsequently awarded the Distinguished Service Cross for his part in the action and led the Victory Parade through the City of London. He has held several appointments in the Ministry of Defence in the Plans, Programmes and Policy areas plus three years as head of Naval Intelligence and three years as Chief of Defence Intelligence covering the Kosovo War. He was promoted to Admiral in November 2000 when he became Commander-in-Chief Fleet, NATO Commander-in-Chief East Atlantic and NATO Commander Allied Naval Forces North. He led the United Kingdom's maritime response to 9/11 including the invasion of Afghanistan. He became First Sea Lord in September 2002 and the First and Principal Aide-de-Camp to HM The Queen. He inspired and organized the Trafalgar Bicentennial Year and led the Navy during its crucial and successful role in the initial invasion of Iraq. He retired as First Sea Lord on 7 February 2006 becoming Chairman of the QinetiQ Defence Advisory Board. He advised both Conservatives and Labour on defence and foreign policy before, in July 2007, being asked by Gordon Brown to join the Government as one of the GOATs (Government of All The Talents) responsible for national security and counter-terrorism as well as cyber and Olympic security. He produced the United Kingdom's first ever National Security Strategy and Cyber Security strategy as well as formulating a series of other groundbreaking strategies: the counter-terrorist policy (Contest 2); cyber security; CBRN (Chemical Biological Radiological and Nuclear; science and technology for countering international terrorism; guidance for local government in enhancing the security of crowded places. He was Chairman of The National Security Forum. He left government in May 2010 and is currently a strategic advisor to a number of small companies, a motivational speaker, Chancellor of Southampton Solent University,  plus a number of other appointments. Lord West was made a Knight Commander of the Order of The Bath in 2000, Knight Grand Cross in 2004, Baron in 2007 and a Privy Councillor in 2010.
Christopher Wilkins 
Advisory Board Member
Christopher Wilkins is currently chairman of North British Windpower, a privately owned company developing renewable energy in Scotland.  Previously he was the architect and first chairman of Hakluyt & Co, an information gathering company.  Before that he established and ran his own company in the paper industry, which he then sold.  He was a member of the Scottish Economic Council for ten years.  He has also worked in the newspaper industry and prior to that he served in the army for eight years – including some active service in the Middle East.
Staff
Jacqueline Jinks 
Director of Global Strategy Forum
Jacqueline Jinks is the second Director of Global Strategy Forum. She joined Global
Strategy Forum as Research Director in June 2006. From 1997-2005, she was Political Secretary and speechwriter to Lord Moynihan, a former Conservative Senior Spokesman on Foreign Affairs in the House of Lords. She has also worked for the Rt. Hon Michael Howard QC MP and the Rt. Hon Francis Maude MP, during their respective tenures as Shadow Foreign Secretary. She has worked in the US, most notably for the Democratic National Committee during the 1996 US Presidential Election campaign.